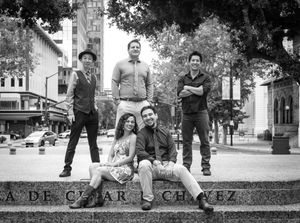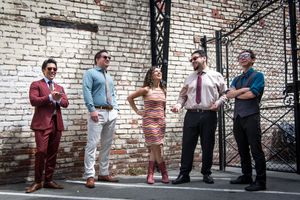 "What matters is the energy that flows through us and carries onto the crowd or pours out of the records and individual songs we put out. What matters is the intention, the emotions, the authenticity of the messages, the exchange with the listeners." - Nehal Abuelata - Sweet HayaH
download
Can't Get Comfortable
Sweet HayaH
Sweet HayaH is so proud to finally share "Can't Get Comfortable" with each & everyone of you. This song was written by the band in the Summer of 2020, so this single is an echo to the social injustices, the inequality & the hardships so many have endured these past few years (and throughout the ages). Our greatest wish for this song is
Sweet HayaH is so proud to finally share "Can't Get Comfortable" with each & everyone of you. This song was written by the band in the Summer of 2020, so this single is an echo to the social injustices, the inequality & the hardships so many have endured these past few years (and throughout the ages). Our greatest wish for this song is that it will inspire or even empower beyond its inception:
Music/Lyrics: Sweet HayaH - Copyright 2022 Guitar: Devin Moreno Vocals: Nehal Abuelata Drums: Kosuke Okamura Trombone: Ryosuke Sakurai Bass: Austin Geiger
Huge thank you and shout out to these amazing folks: Recording/Mixing: Steven Glaze - Tone Freq Studios: http://tonefreq.net Mastering: Piper Payne - Infrasonic Sound: https://www.infrasonicsound.com/piper Album Art Work: Shawn Williams - Two Worlds Graphics: https://www.instagram.com/twoworldsgraphics/ Logo: Shawn Williams/ Tigran Shishmanyan Photos: Zach Malosh PR: Vince Martellaci Notes on mix: Matt Harrison (Periscope)
Available for Streaming/Downloading on www.SweetHayaH.com, Spotify, Distrokid, Apple, and beyond...
Website: https://sweethayah.com/ Facebook: https://www.facebook.com/sweethayah Instagram: https://www.facebook.com/sweethayah Booking/Inquiries: sweethayah@gmail.com
Read more…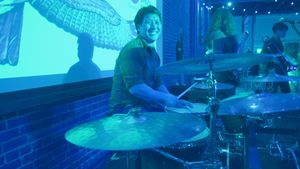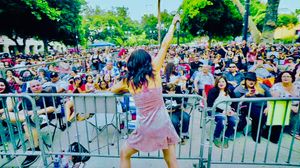 sweet hustle
The band's journey boasts a myriad of festivals, as well as opening and supporting shows for impressive and legendary artists such as Robbie Krieger of the Doors, Roddy Radiation of the Specials, The Selecter, The Slackers, The English Beat and more... In 2017 Sweet HayaH played for 6,000 people at San Jose's Music in the Park, opening for world-renowned Soul man Brenton Wood. 
Starting in 2019, lead  vocalist Nehal, drummer Kosuke, and Trombonist Ryo became part of the Golden State Warriors' House band, The Bay Blue Notes. Nehal has performed at the Warriors' Pre-Season Halftime show for the NBA team's very FIRST public game at the Chase Center Stadium in front of 18,000 Basketball fans.
The band has continued to perform online through the pandemic, focusing on fundraising online shows to spread light & love in the community. They are now back in full force, performing live, recording and putting out music! Check their schedule (under "Live Shows" to see where they may be playing next!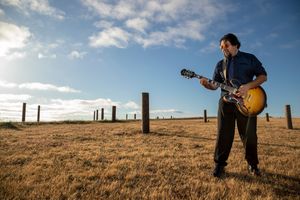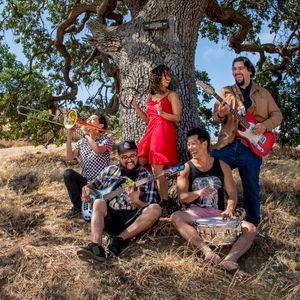 The Live Experience
Live at The Art Boutiki
Sweet HayaH
Recorded Live at The Art Boutitki in San Jose, CA Feb 15th 2020 Kosuke and Janelle's special night
Read more…
0:00/3:57

0:00/4:37

0:00/6:57

0:00/5:40

0:00/4:03

0:00/15:00

0:00/6:05
"HayaH is the Arabic & Hebrew word for "life" & Sweet HayaH has a lust for life that pulsates through the music they create."
— Gig Town
Latest News
Sweet HayaH has stolen many hearts over its 11 years of existence in the San Jose / California region (and beyond) with their life-infused original soulful sounds and invigorating Live performance schedule. At the start of  2020, the band started focusing on recording new material, and released their live album "Live at the Art Boutiki" in the midst of the pandemic, donating the majority of the proceeds to various Non-Profits around the nation. This Worldly Retro-Soul group released the much anticipated Single "Cotati" in 2021. During shelter-in-place, Sweet HayaH continued to perform live streams, write new material, and came up with new ways to stay connected with their fans in this new remote world. The band has now resumed performing at Festivals and LIVE events all over the State. In Spring of 2022, Sweet HayaH released their hard hitting single "Can't Get Comfortable", and in Winter of 2022, Foolin' was released into the world! Stay tuned for the group's imminent Hayadventures! 
Booking and Private Events inquiries: sweethayah@gmail.com
"There are some bands that you absolutely have to see Live, and Sweet HayaH is in that category. Frontwoman Nehal's energetic stage presence will draw you in whether it's the first or 101st time you're dancing along to the band. Get a taste of Sweet HayaH's incomparable Rock-Soul-Funk blend!"
Gentle Lies
The songs on Sweet HayaH's full-length album "Gentle Lies" weave together the band's Retro/World/Soul/Funk/ style with its members' own personal and musical journeys. Choosing to take a subtle approach in how they would tell their stories through music, the band carefully considered how these songs would speak to its audience. This album will always be special, as it represents a collaborative project that features a myriad of guest musicians, as well as family and friends who sang along on the Outro of their single titled "Backwards".  The album was produced by Todd Jeremias, an Award-winning San Jose Producer and musician who challenged the band to test new limits throughout the recording process. Jeremias' valuable mentorship was a major factor in the magical outcome of "Gentle Lies" and continues to have a positive influence on Sweet HayaH today.